My aunt Babs and uncle Paul and were high school sweethearts who met as kids in the Rockaways.   Family legend has it when he was in medical school at NYU and Babs was at Skidmore College up in Saratoga,  Paul was missing her so he couldn't concentrate on his studies,  would cut classes to play Bridge,  and had to repeat a year.
But Paul eventually buckled down,  he and Babs got married,  and though my cousins Debra and Robin weren't yet born,  when Paul graduated from medical school,  his four-year-old niece was there – me!
Paul became an obstertrician and once performed a hysterectomy on the family cat!  Always good with his hands,  Paul was a whiz with tools,  could fix anything electrical, was an excellent boatman,  and after learning to fly in the Air Force during the Korean War,  flew his own private plane for years.
On Nov. 22, 1950 when Paul was still a young intern at Queens General Hospital,  word came that two commuter trains had collided on the railroad tracks near Kew Gardens.
My uncle Paul was among the first responders on the scene and worked tirelessly to triage and treat the injured passengers as they were pulled from the mangled railway cars.  My mother proudly framed a newspaper photo of her heroic kid brother Paul standing on a ladder propped against one of those damaged cars.  With 79 fatalities,  that train wreck is still the worst disaster in LIRR history.
While Paul was finishing his medical training,  and before their girls were born,  Babs worked as a librarian.  In fact it was my aunt Babs who encouraged me to enter that field and so I did,  making it a 30 year, very rewarding career.
In the 60's when Beatlemania was all the rage,  fans were asked to name their favorite of the Fab Four.   This is the button my aunt Babs wore.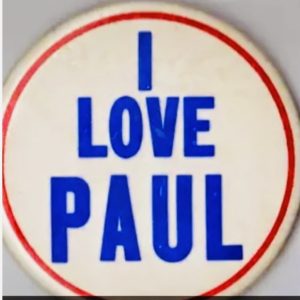 Dana Susan Lehrman