For years I worked on my tennis game,  and even went to adult tennis camp 3 or 4 times,    but I seemed to have plateaued somewhere between advanced beginner and intermediate.   I blame my parents of course for my lack of prowess as they apparently valued piano over tennis lessons for their kids.   (And by the way after all that money spent,  and those fights with my mother over practicing,  all I can play now are a few opening bars of Fur Elise.)   (See Tennis)
Then in my 40s I decided to really get serious and joined a tennis club with my friend Shel.  We meant to play at least one night a week,  but altho we enjoyed it,  neither of us seemed to have a really strong  commitment.   Shel was an elementary school principal and when I'd call her at work her secretary would hear my voice and ask if I was canceling tennis again.
But after we both retired,  and we theoretically would have our days free,  we vowed to play more often and finally get really good.   Yet somehow we both got busy with other stuff,  and after a few years we decided to drop the club membership and play ad hoc.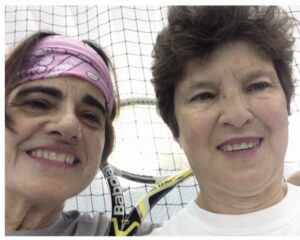 Then my husband and I bought a weekend house in a country community that had both indoor and outdoor tennis courts,  and I thought at last I'd have the chance to really improve my game and play regularly.
But getting into a woman's regular game wasn't easy – serious players,  I soon learned,  aren't particularly eager to welcome new ones – and especially ones who've plateaued somewhere between advanced beginner and intermediate.
And when I did find a regular game,  it was obvious that I was among the weaker players,  and after a few seasons I was unceremoniously dropped.
Then I discovered pickleball.   I found that I play it far better than tennis and enjoy it far more,  and best of all I was warmly welcomed into a regular women's game.
As you may know the object of pickleball,  like tennis,  is to get the ball over the net,  but the court is shorter,  the racket is smaller,  the ball is bigger,  and the game is faster and much more fun.
Now every morning if it doesn't rain I pursue my new hobby.   So don't call me between 9:30 and 11:00,  I'll be out on the court with the other addicts.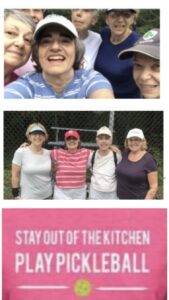 Dana Susan Lehrman